Greece offered "serious and credible" reforms, the Florida Supreme Court held redistricting was "tainted by unconstitutional intent," and guess who now leads the GOP primary polls…. (More)
"Serious, credible, comprehensive"
Today the Greek Parliament will vote on a €13 billion budgetary reform package proposed by Prime Minister Alexis Tsipras. The Athens-Macedonia News Agency has the full text of the proposal was sent to the Eurogroup last night, and the Guardian has a summary of the key points, including:
Value Added Tax – The VAT will rise to 23% on restaurants and catering, be cut to 13% on basic foodstuffs, energy, hotels, and water, and to 6% on medicines, books, and theatre.
Fiscal Reform – Military spending will be cut, corporate taxes will increase from 26% to 28%, and preferential treatment for farmers and the shipping industry will be phased out.
Pensions – By 2022 the retirement age will be standardized at 67, except for those performing "arduous jobs" and mothers raising disabled children.
Tax Collection – an autonomous tax revenue agency will be established and the government will enact reforms to streamline tax collection, track down tax cheats and combat fuel smuggling.
Prime Minister Tsipras' reforms are €4 billion more than the Eurogroup plan that Greeks voted down on Sunday, and today French European affairs minister Harlem Desir said "The proposals which have been put forward are all serious, credible, comprehensive."
Australian financial analyst Chris Weston wondered if the Greek Parliament will approve the plan:
There will be factions within the Greek parliament that simply won't know what Tsipras is playing at, so when the Greek parliament vote on these measures today it is by no means a done deal.
But Syriza party spokesman Nikos Filis said the parliament will approve the offer today.
So I'll go out on a limb – squirrels do that a lot – and speculate that "what Tsipras is playing at" was to offer a reform package so comprehensive that German leaders would have no excuse to take debt relief off the table. The real sticking point has always been Germany's "reform now, relief later" demand. But both the IMF and U.S. Treasury Secretary Jack Lew have called for immediate debt relief, and with a reform offer this strong … Germany is out of excuses.
"Tainted by unconstitutional intent"
Yesterday the Florida Supreme Court sent the Florida Legislature back to the drawing board with a firm rap across the knuckles and a clear order to end gerrymandering:
In the historic 5-2 ruling, the court not only ruled the maps were the product of an unconstitutional political gerrymandering, it signaled its deep distrust of lawmakers and provided detailed instructions on how to repair the flawed map in time for the 2016 election.

"This is a complete victory for the people of Florida who passed the Fair District amendment and sought fair representation where the Legislature didn't pick their voters," said David King, lead attorney for the League of Women Voters and the coalition of voter groups which brought the challenge. "The Supreme Court accepted every challenge we made and ordered the Legislature to do it over."

The new maps are likely to reconfigure nearly all of the state's 27 congressional districts, open the door to new candidates, and threaten incumbents, who will now face a new set of boundary lines and constituents close to the 2016 election.
The court upheld the findings of fact from last summer's trial in Leon County, but said the trial court's remedy was too limited:
In 12 pages, the Supreme Court recounted in detail the trial court evidence that revealed the depth of the relationships between the partisan political operatives and the legislative leaders – even noting how GOP consultant Marc Reichelderfer lived near former House Speaker Dean Cannon and how "their families spent time together, Reichelderfer saw Cannon on the weekends."

The court commended [trial judge Terry] Lewis' finding that the maps were "tainted by unconstitutional intent" to benefit Republicans and incumbents but disagreed with his legal reasoning for limiting the fix to two districts and leaving the rest, because the Legislature no longer deserved to be given any deference.

"After reaching the conclusion that the 'redistricting process' and the 'resulting map' had been 'taint(ed)' by unconstitutional intent, the burden should have shifted to the Legislature to justify its decisions, and no deference should have been afforded to the Legislature's decisions regarding the drawing of the districts," the court wrote.
The new maps will change most U.S. and Florida House districts, and a challenge to Florida Senate districts will soon go to trial. Expect Florida Republicans to start howling about "activist judges" later today.
"Sales were limited to strategic bulk purchases"
In other howling, publisher HarperCollins is upset that GOP WHannabe Ted Cruz's new book isn't on the New York Times bestseller list:
Cruz's A Time For Truth, published on June 30, sold 11,854 copies in its first week, according to Nielsen Bookscan's hardcover sale numbers. That's more than 18 of the 20 titles that will appear on the bestseller list for the week ending July 4. Aziz Ansari's Modern Romance, which is #2 on the list, sold fewer than 10,000 copies. Ann Coulter's Adios America, at #11, sold just over half as many copies.
[…]
This week, HarperCollins, the book's publisher, sent a letter to The New York Times inquiring about Cruz's omission from the list, sources with knowledge of the situation said. The Times responded by telling HarperCollins that the book did not meet their criteria for inclusion.

"We have uniform standards that we apply to our best seller list, which includes an analysis of book sales that goes beyond simply the number of books sold," Times spokesperson Eileen Murphy explained when asked about the omission. "This book didn't meet that standard this week."
Murphy later clarified:
In the case of this book, the overwhelming preponderance of evidence was that sales were limited to strategic bulk purchases.
In other words, almost all of those 11,854 copies were bought by right wing groups, to make a book that no almost no one is reading look like a bestseller. That tactic has become notoriously common, and apparently the Times upgraded their market analysis to detect it. That's good for legitimate authors … but bad for wingnuts' egos.
"Everybody wants me to do it"
And no discussion of egos would be complete without …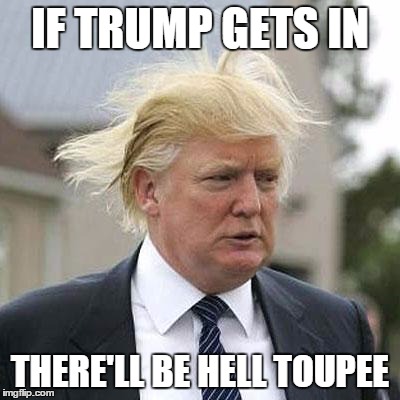 It turns out he's now the leading GOP WHannabe:
In this week's Economist/YouGov Poll, businessman Donald Trump leads among Republicans, ahead of Kentucky Senator Rand Paul, former Florida Governor Jeb Bush, former Arkansas Governor Mike Huckabee, Florida Senator Marco Rubio and Wisconsin Governor Scott Walker.

Trump looks even better as a candidate this week when Republicans are asked for their second choice. When they are, Trump extends his lead. One in four Republicans who are registered to vote say he is their first or second choice.

But who are these Republicans? Trump's statements on immigration may be striking a chord. Two-thirds of those who choose Trump first or second support the goals of the Tea Party, higher than the overall percentage of Republicans who do. They are much less likely to have a college education than are other Republicans, and they are more likely than other Republicans to say they are "very" conservative.
Only one-in-five Trump supporters think he'll win the GOP nod, but yesterday he said he may run as an independent:
"So many people want me to run as an independent, so many people," Trump said. "I have been asked by – you have no idea, everybody wants me to do it."

Pressed about whether he would back the Republican ticket if he fails to win the nomination himself, Trump left the door open for a third-party bid of his own. "I would have to see who the nominee is," he said.
Ego aside, and it's hard to find any side that Trump's ego doesn't comb over, he's giving the GOP fits:
Since the start of Mr. Trump's presidential campaign, a vexing question has hovered over his candidacy: Why have so many party leaders – privately appalled by Mr. Trump's remarks about immigrants from Mexico – not renounced him?

It turns out, interviews show, that the mathematical delicacy of a Republican victory in 2016 – and its dependence on aging, anxious white voters – make it exceedingly perilous for the Republican Party to treat Mr. Trump as the pariah many of its leaders now wish he would become.

Even as a cascade of corporations and business partners – from NBC and Macy's to the chefs at two planned restaurants – rush to sever their ties with Mr. Trump, Republican leaders seem deeply torn and paralyzed by indecision.
Fortunately, the Democratic National Committee were ever-so-happy to help:
Maybe Reince Priebus should ask to borrow the Florida Supreme Court's yardstick.
+++++
Good day and good nuts