Republicans are crowing that yesterday's win by David Jolly in Florida's U.S. House District 13 special election was a defeat for the Affordable Care Act. In fact it was yet another lesson in voter turnout. (More)
FL-13: A(nother) Lesson in Turnout
First let's dispense with a common myth. Elections are only referendums on specific issues if the issues are referendum questions on the ballot. Candidates run on a wide range of issues, and voters choose candidates for an even wider range of reasons. For example, 2012 exit polls in Florida showed a plurality voters critical of the Affordable Care Act yet President Obama won the state. So Republicans celebrations of David Jolly's win as a defeat for the Affordable Care Act are merely spin.
Only 39% of voters cast ballots in yesterday's election, and turnout was highest in precincts that also held municipal elections: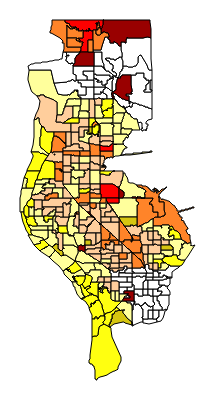 Most of those municipal elections were in beachfront communities, and those communities gave Jolly the victory:
Although the local races were technically non-partisan, most of the winners were Republicans. With no exit polls, there's more data to support a claim that David Jolly rode the coattails of local Republicans than for the claim that Alex Sink was doomed by her tepid support for the ACA.
Ultimately, this special election drives home a familiar message: too many Democratic voters stay home in non-presidential elections. Midterm electorates are consistently older and whiter than in presidential years, and more voters in both demographics favor Republicans. Other research shows that income is also a factor in midterm turnout, and again, wealthy voters are more likely to vote Republican.
Again, there were no exit polls yesterday. We don't have age, race, or income data for who voted. We don't have data on what issues mattered to which voters. But we do have precinct-level turnout and it correlates to local elections, most of which were in comparatively wealthy, beachfront communities.
For Florida Democrats, yesterday did not prove that the ACA is politically toxic. But it did offer yet another lesson in voter turnout.
+++++
Happy Wednesday