Professor Plum and Ms. Scarlet offered their picks for today's Super Bowl, as did the staff. We differ with their reasoning. (More)
Professor Plum favors Green Bay based on their 41.2 to 40.8 power rating edge, which he assures us is meaningful. Ms. Scarlet chose the Packers because their yellow is prettier. The Professor of Astrology Janitor likes the Packers because of the Wisconsin Buffer Initiative, though we discovered that does not mean what he thinks it means. Chef is in the kitchen making a Leftover Bratwurst Scramble, which told us which way she leans. That left your lowly mail room clerk, and our search for predictive clues in the week's correspondence….
+++++
Dear Ms. Crissie,

One of the biggest challenges facing the residents of the Commonwealth is finding affordable health care for themselves and their families. One of our top priorities in the new session will be to look for ways to provide high quality and affordable health care programs that will benefit all residents of Pennsylvania. That's why I've sponsored Pennsylvania House Bill 42, to block the 2010 Affordable Care Act.

Go Steelers in PA
Dear Go Steelers,
We admire your attempt at counter-democratic Orwellian doublespeak. However, Pennsylvania is one of several states pondering similar legislation, and yours is hardly a snowflake in that blizzard of bluster. Idaho is considering a bill to nullify the law, and Arizona one-upped Idaho with a bill that claims authority to review and nullify all federal laws. Champions must stand out from the rest, and we don't see that in your effort.
+++++
Dear Ms. Crissie,

I ran on a platform of creating jobs. That's why the first thing I did after I was elected governor, before I took office, was to kill Wisconsin's high-speed rail project. Then I tried to kill our wind farms with property line setbacks, but the state legislature said no. Now I'm going to do that through changes to the Public Service Commission rules, so the state legislature can't stop me.

Go Packers in WI
Dear Go Packers,
We must admit, this is truly championship-level counter-democratic Orwellian doublespeak. Let's turn to our guest analyst, the BPI Squirrel, and the new Tellasstrator app he got for his Blewberry: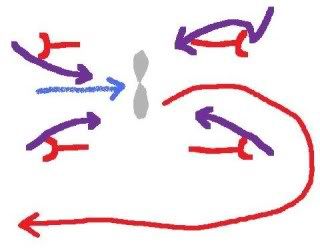 Squirrel@BPI: Thanks, Ms. Crissie. They call this play the Walker Wind Wheel. Walker tries to make the pocket big enough that no one can build a wind farm. But the state legislature get off those blocks and go for the sack. Notice the spin move from the upper right, as those cagey Wisconsin legislators read the play perfectly and see he's going to throw jobs to Illinois and other states. So Walker does an end run around the democratic process. It looks nuts, and it is. Not macadamia nuts, of course. Those nuts are good. This nut is just nuts. The kind of nut that makes me grumpy. Maybe I'm just hungry. You take over. I'm going for breakfast.
We cannot disagree with the BPI Squirrel's analysis. If Packers' quarterback Aaron Rodgers can be this elusive, we are confident he will lead his team to victory.
+++++
Dear Ms. Crissie,

So you're picking the Packers because Wisconsin's governor is wackier than that Pennsylvania state representative? You realize it's the Super Bowl, not the Stupor Bowl? Oh, and how do I make Chef's Leftover Bratwurst Scramble?

Questions Galore in Blogistan
Dear Questions Galore,
We are aware that this is the Super Bowl. We also note that Super Bowl winners are usually clearly superior. In a contest of counter-democratic Orwellian doublespeak, we see Go Packers in WI as clearly superior. As for Chef's Leftover Bratwurst Scramble, prick two small red potatoes with a toothpick and microwave for 5 minutes, turning them halfway through. Let them cool and cut them into ½" cubes. Cut a leftover bratwurst link into ½" cubes, then roughly chop half a green bell pepper and half an onion. Lightly season the potatoes, bratwurst, peppers, and onions paprika and a dash of chili powder, and pan fry for 5 minutes, turning often. Push the potato mixture to the side and scramble 8 eggs. Fold the potato mixture into the eggs when they are nearly done. Chef tops hers with a dash of Tabasco sauce. Bon appétit!
+++++
Sources:
Green Bay power rating; Pittsburgh power rating; Wisconsin Buffer Initiative.
Go Steelers in PA; PA House Bill 42; Idaho nullify health care; Arizona nullify everything.
Go Packers in WI; plan to use PSC rules without legislation.
+++++
Happy Sunday!