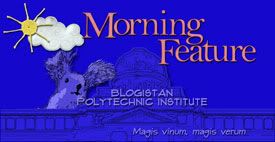 The BPI resident faculty put in a requisition for a bubble machine and a roll of bubble wrap today. Either they're planning a party themed on Champagne Chomsky, or it was their clue that it's time for another End-of-Semester Activity Fraught With Stress And Sometimes Disappointment, like a formal dance or something. (More)
First our thanks to last week's guest lecturer. Last Wednesday, Professor of Neuroholdemology Caractacus explored one aspect of Malcolm Gladwell's Outliers and why some parents choose to wait a year before starting their children in school, in Back to School, Part 2. It sparked an excellent discussion and is worth reading.
This Tuesday, Professor Caractacus returns to his normal lecture day to continue his Things We Learned This Week series. He was traveling this week, so his topic will be a surprise. On Wednesday, Professor of Commuhealthmemiofieldrogueology TheFatLadySings returns to the lectern to report on her county's health care success event featuring Sen. Jeff Bingaman (D-NM). As always, Chef will provide coffee and bagels, and the Professor of Astrology Janitor will program his computerized buffer.
Note: We have a Morning Feature guest lecturer for next Wednesday (September 8th), but we have openings starting the following Wednesday (September 15th). We also have openings on Mondays and Wednesdays for Furthermore!, the BPI campus soapbox, and openings for our daily people-watching series, Midday Matinee. If you would like to guest host Morning Feature or contribute at BPI, please volunteer in today's Campus Chatter.

Also: Please share your stories of offline political activity in Things We Did This Week.
This leaves only the resident faculty and the unusual requisition they filed on their way to the hot tub faculty lounge for their weekly game where the underwear goes flying planning conference. As BPI budget does not have Champagne Chomsky in our wine cellar library – where they spent the weekend drinking thinking on our motto of Magis vinum, magis verum ("More wine, more truth") – and because we thought they learned their lesson last time they tried to use the hot tub faculty lounge as a bubble bath, we assume the bubble machine and bubble wrap are not bubbly party favors. So it must be a clue.
Given the date, we thought it most likely the resident faculty have planned another End-of-Semester Activity Fraught With Stress And Sometimes Disappointment, like a formal dance or something. The spring formal dance or something was such a hit, after all. So while the resident faculty review the summer's lectures on Thursday and Friday, we'll look for that mirrored ball again … and research ways to attach sequins to bubble wrap.
+++++
Happy Monday!