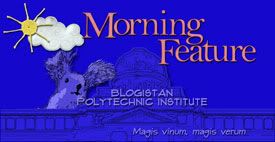 With a crack in the usual Morning Feature schedule, a thong of celebrants gathered to expose more of the second annual BPI Awards: the curvaceous and very desirable Bippies.
Today we turn to Hollowood and the movies that were not made this year. Call it the cellulite of celluloid. (More)
Exposing More Bippies – The Not-Movies of 2010
We could not discuss movies at Blogistan Polytechnic Institute without mentioning product placement. We do not endorse subliminal advertising and fine-tuned the BPI HEMMED lab to block it from the awards ceremony. Furthermore, we think product placement has no place in art. Children and teens often attend matinees, and parents should not wonder if their young ones' chatter has been prompted by advertisements slipped into entertainment. Indeed we call on theaters to revive the news roundups that helped us stay informed as we ate popcorn. So you can rest assured that there will be no product placement in our awards program.
Yet again we were unable to use the opulent Kodiak Theater, as the bears were upset that none of this year's nominees featured animals. So yet again we reveal our Bippies online. As always, the voting was by secret ballot and the results have been kept safe at the bottom of Pootie the Precious' litter box. We apologize for the smell.
So without further adieu, the 2010 BPI Award nominees for movies that were not made:
+++++
The Unemployables
Trailer: In a world where they are too old to work and too young to retire, five action heroes face an implacable foe. Armed with only botox, soft focus, fading name recognition, and stunt doubles, can they cash in for one last score?

Director Interview: I wanted to do a movie that explored the difficult economy in a sensitive way. It's really a pro-union piece that I hope will encourage all aging action heroes to work together.
+++++
Clash of the Twilatars (3D)
Trailer: Enter a world where the gods are angry. Wounded in the service of his country, Pete Firm must learn the ways of the Na'CeeGee to learn the secrets of Undeadium. With only his magical sword and his love for a beautiful young vampire, can he save a planet?

Director's Interview: My movies have always featured strong women, and I thought the best way to do that for today's audiences was to use an animated heroine.
+++++
Smelt (3D)
Trailer: In a world where coeds frolic in bikinis, danger lurks. At Camp Nearporn, an experiment has gone wrong. Now Dr. Richard Turgid must battle to save not only his career, but also his daughter's life. Just when you thought it was safe to go back in the water….

Director Interview: I care about the environment, so I made a film about fish who develop a ravenous appetite for silicone. I thought the 3D effect would give the plot curves more bounce.
+++++
The Last Hoodbender (3D)

Trailer: In a world where the rich prey on the poor, a hero emerges. Driven by love, fueled by destiny, entrusted with magic, he must lead a people to throw off a corrupt system and create justice. But first … he must believe in himself.

Director's Interview: I wanted to make a movie that was pure fantasy, where hope could triumph. I hope the audience will reach across the aisles to share snacks.
+++++
The Banker
Trailer: In a world gone mad, Rich Liberty stands alone. Hated and hunted, he must battle those who would destroy his country. With only a vault full of cash and some friends in the Senate, can he save America? Or will he have to move to Abu Dhabi? Rich Liberty is … the Banker.

Director Interview: I wanted to make a film that focused on the plight of minorities in America, and the risks of a tyranny of the majority. And I wanted to try a big budget film, and they threw money at me for this.
+++++
So there they are, the five nominees for the 2010 Bippies. And the winner is …
… Squirrel on a Wire, an edge-of-the-seat action thrill ride:
We really must find another place to hide that envelope.
+++++
Happy Tuesday!