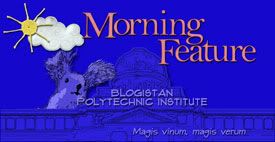 Summer, the time to head to the beach with a good book, is nearly over. The BPI resident faculty wanted to know if the staff had been reading, and if so what, so they could add our books to their silly buses.
We all know they don't read on their weekends…. (More)
First our customary thanks to last week's guest lecturers. Last Tuesday, Professor of Neuroholdemology Caractacus offered insights on education in Thoughts on a New School Year. And last Wednesday, puzzled made her debut at the Morning Feature lectern with a provocative offering of Elliot Waves and Elections. Both were excellent discussions and will be covered if the resident faculty plan another anxiety-inducing end-of-semester activity, like a formal dance or something.
Our usual schedule changes this week. Professor Caractacus will be traveling Tuesday, so his Things We Learned This Week series will continue on Wednesday. That leaves a crack on Tuesday for the second set of 2010 BPI Awards, the curvaceous and highly-coveted Bippies. Tomorrow we honor movies that were not made. As always, Chef will be in the lobby with breakfast treats and the Professor of Astrology Janitor be in the corridor breaking tweets.
Note: We have a Morning Feature guest lecturer for next Wednesday, but we have openings on the following Wednesdays. We also have openings for the BPI campus soapbox Furthermore!, and for our people-watching series Midday Matinee. If you would like to guest host Morning Feature, or to contribute at BPI, please volunteer in today's Campus Chatter.

Also: Please share your stories of offline political activism in Things We Did This Week.
That leaves the resident faculty and their quest for books to add to their silly buses, or silly buys, depending on how you pluralize their silliness. They spend weekends in the wine cellar library drinking thinking on our motto of Magis vinum, magis verum ("More wine, more truth"), before heading out to the hot tub faculty lounge for their weekly game where the underwear goes flying planning conference. Obviously that leaves little time for reading, for which they rely on the staff.
So this week we'll review books the staff would have taken to the beach, were we not averse to sunburn and getting sand in our you-knows. We'll look at Max Blumenthal's Republican Gomorrah, and consider Andrew Bacevich's Washington Rules through the historical lens of Edward Miller's War Plan Orange. We'll also peek at Mario Livio's Is God a Mathematician? alongside Brian Greene's The Fabric of the Cosmos and/or Leonard Susskind's The Black Hole War.
No wonder the summer went by so fast….
+++++
Happy Monday!