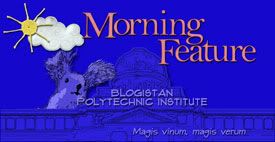 Yet again Kyrgyzstan had a sale on vowels, so Meta-Monday becomes Meet-a Monday.
Today we meet Suzan DelBene, U.S. House candidate from Washingon's 8th District. Having spent over 20 years as an entrepreneur, scientist, and technology executive, Suzan understands the critical role innovation plays in creating growth and opportunity. (More)
First, as always, we thank last week's guest lecturers. Last Tuesday, Professor of Neuroholdemology Caractacus pondered IKEA, the Anti-BP. Last Wednesday, Professor of Juronursinfosystology FarWestGirl called on Congress to Release The Hounds and revive funding for regulatory agencies. Both were excellent discussions and are worth reading if you missed them.
This Tuesday, Professor Caractacus continues his Things We Learned This Week series with the story of how two State Department employees convinced Secretary Clinton to add Twitter and Facebook as tools of digital diplomacy. We have no guest lecturer this Wednesday, so the BPI Squirrel will grumble that we didn't send him to Netroots Nation and speculate on what he's missing. As always, Chef will be at the entrance with coffee and bagels, and the Professor of Astrology Janitor be at the exit with his cleaner and buffer.
Note: We have no guest lecturer for next Wednesday, July 28th, and we have openings for Furthermore!, the BPI Campus soapbox, on Mondays and Wednesdays. If you would like to guest host Morning Feature, or to contribute at BPI, please let us know in today's Campus Chatter.

Also: Please share your stories of offline political activism in Things We Did This Week.
And without further ado, please meet Suzan DelBene, the Democratic candidate for the U.S. House from Washington's 8th District. Suzan has deep ties in the Puget Sound region, and is an experienced and successful entrepreneur and business leader. She helped found drugstore.com, and served in executive roles for Nimble Technology and Microsoft. She will be here to answer your questions at 10am ET (7am PT), and we caught up with her by email to ask some of our own.
+++++
At BPI we summarize the Democratic Party message in three sentences: (1) People matter more than profits; (2) The earth is our home, not our trash can; and, (3) We need good government for #1 and #2.

What will you do in Congress to advance this core Democratic message?
Not lose touch with the people I'm in Congress to represent.
My opponent cares about his own re-election and the special interests that fund his campaign, rather than the people he's in Congress to represent. That's why he's voted against Wall Street reform, health insurance reform and many other bills to help families struggling in this recession.
That's wrong.
I've campaigned since February 2009, and met some incredible people in the 8th CD – farmers, small business owners, veterans and entrepreneurs. This district is incredible because it contains so many people from so many different backgrounds who have all had their lives change during this recession in one way or another. No two communities are the same, so it's vital our representatives get out and talk to people who are on the receiving end of the votes they cast in Congress. My opponent's opposition to health care reform may have made his Republican leadership happy, but – if the bill failed – it would have had real consequences for the people of his district.
At BPI we discuss the progressive movement in terms of six overlapping issues: Privilege, Education, Civil Liberties, War, Corporatism, and the Environment.

Which of these were most important in your decision to seek public office?
My family struggled a lot when I was growing up. My father, an airline pilot, lost his job when I was young, and my mom and dad never really got back on their feet. We moved around as they looked for stable opportunity that never quite materialized. My parents even moved in with me when I graduated college when they had nowhere else to go.
Today, I speak with people who have the same financial challenges as my family. People can't find work. Small businesses can't get loans. Families wonder if this will be the last month they can pay the mortgage.
With my background in business, I know what it takes to create jobs and what the Federal government can do to help stimulate the economy and help people get back on their feet. I want to make sure more people have access to education and economic opportunity, so they have a better chance to work hard and improve their lives.
At BPI we suggest a seasonal metaphor for the political cycle, that a Conservative Autumn began in the late 1960s leading to the Winter of the past decade, and that a Progressive Spring began in 2006 and 2008.

What are your top priorities to help advance that Progressive Spring and Summer?
Creating new jobs. Creating an economy that thrives over the long term for middle class families is one of my top priorities. As an entrepreneur, technology leader and businessperson I know that government policy can support growth and innovation and help us create new jobs. I understand that our businesses compete in a global marketplace, and government can play a critical role in supporting the competiveness of American companies and workers.
We also have a great opportunity to take on climate change and create clean energy jobs. Washington State is well-poised to take advantage of those opportunities. Coming from a technology and a business perspective, I know that we can do a lot to reduce carbon emissions by using market incentives to reduce global warming pollution in the most efficient and cost-effective way possible. Taking on climate change now will save us money, make America more energy independent, and give us all a cleaner, greener world.
Ensuring quality, affordable health care for everyone. I support health care reform that is focused on providing quality, affordable health care to all Americans. Current policy has made progress on access to health insurance, but has not addressed the fundamental incentives for quantity versus quality in our health care system, which drives up costs. There needs to be a continuing effort to alter this trend and ensure quality, affordable health care for everyone.
We need to support critical innovation that can help lower rising health care costs by helping to diagnose, prevent and treat the chronic diseases that impact millions of Americans. New information technology can help streamline the administrative costs of sharing information between doctors and patients. Investments in innovation not only lower escalating health care costs, they also create jobs that support our economy. Finally, we must continue our efforts to educate and inform all Americans on how to best prevent health problems before they arise.
Holding government accountable. Government must be responsible for a sound fiscal policy that reduces our national debt and reduces the tax burden on our small businesses and on our working families. We need to reform our financial system, get taxpayer money back, and get out of the bailout business. In the business world you are accountable to those that have invested in you – shareholder, personal investors, consumers – and the same should be true for government.
+++++
Please visit Suzan's website and the BPI ActBlue page. Help her turn Washington's 8th District blue!
+++++
Happy Monday!