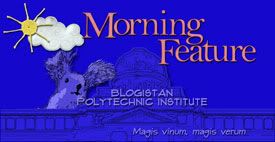 "I suppose you're hungry," Chef said tartly as she drove the resident faculty home.
"But it's summer!" Professor Plum said, shaking his head and all six chins. "Can't we enjoy the beach?"
"Not like that," she replied. "I'll make you a salad."
They approved, which must be a clue. (More)
Before we get to The Beach Incident, our usual thanks to last week's guest lecturers. Last Tuesday, Professor of Neuroholdemology Caractacus looked back at the Federal Theater Project. Last Wednesday, Professor of Commuhealthmemiofieldrogueology TheFatLadySings discussed How Communities Can Build on Health Care Reform. If you missed them, please read them.
This Tuesday, Professor Caractacus continues his Things We Learned This Week series with a surprise topic. This Wednesday, Professor of Juronursinfosystology FarWestGirl returns to the BPI lectern to discuss restoring funding for regulatory agencies. As always, Chef will dispense coffee and bagels and the Professor of Astrology Janitor will request a dispensation from cleaning and buffing.
Note: We have no guest lecturer for next Wednesday, July 21st. We also have openings for Furthermore!, the BPI campus soapbox, on Mondays and Wednesdays. If you'd like to guest host Morning Feature and/or box soap at BPI, please volunteer in today's Campus Chatter.

Also: Please share your stories of offline political activism in Things We Did This Week.
And that leaves only The Beach Incident. From what we can determine – if only they were as discreet at the time as they are in discussing it – after their weekend in the wine cellar library, drinking thinking on our motto of Magis vinum, magis verum ("More wine, more truth"), the resident faculty skipped the hot tub faculty lounge and went to the beach for their weekly game where the underwear goes flying planning conference. There they continued their revelry research, before calling Chef for a ride home.
That's their version. Chef thinks they've left out some details, though they didn't need to dip into her poker winnings retirement account for bail money this time. P. Porcine – the Earl of Swinesty and BPI's Villain Emeritus – even grumbled that they've stepped on his turf. The staff formed a commission to investigate, led by the BPI Squirrel, and we're confident he'll get the full story.
Regardless, when the resident faculty approved Chef's offer of a light summer salad, we knew that must be a clue to their plans for the week: a seasonal blend rather than a single topic. Let's hope they use fresh tomatoes.
+++++
Happy Monday!