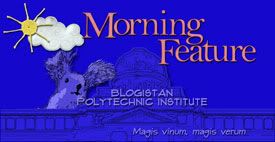 What do you get when the resident faculty can't agree on plans for the week? Besides the obvious – more flying underwear – you get a Summer Smörgåsbord. At least that's what the BPI staff finally agreed to. Chef wanted to call it a Bikini Buffet, but we thought that too … ambiguous. (More)
First our usual thanks to last week's guest lecturers. Last Tuesday, Professor of Neuroholdemology Caractacus introduced us to The Politics of the Long Now, the idea that change appears faster in history than our experience of its happening. And last Wednesday, J Brunner Fan earned her tenure – details below – by asking What's Wrong With Drew Carey? Both were excellent lectures and are worth reading if you missed them.
This Tuesday, Professor Caractacus continues his Things We Learned This Week series with a review of the Federal Theater Project, a New Deal program that sponsored live theatre productions from 1935-39. And this Wednesday, Professor of Commuhealthmemiofieldrogueology TheFatLadySings returns to the BPI lectern to discuss community health care coalitions. As always, Chef will appear with coffee and bagels, and the Professor of Astrology Janitor will disappear in a cloud of buffing.
Note: We have no guest lecturer scheduled for next Wednesday, July 14th. We also still have openings for Furthermore! – the BPI campus soapbox – on Mondays and Wednesdays. If you would like to guest host Morning Feature or take a turn on the campus soapbox, please volunteer in today's Campus Chatter.

Also: Please remember to share your stories of offline political activism in Things We Did This Week.
That leaves us with the resident faculty, who reached no consensus on a topic for the week. They discussed the issue at great length and enough underwear flew with such intensity that the Squirrel had to adjust the zoom on his Blewberry's video camera cover the baby's ears. Apparently it took all their combined creative effort to decide on a faculty title for J Brunner Fan, and fill out a requisition for the Professor of Astrology Janitor to get her keys to the wine cellar library and hot tub faculty lounge and her own laundry mark for those games where the underwear goes flying planning conferences.
So congratulations to J Brunner Fan, our new Professor of Jobdefiliberantology!
Still, the faculty senate multitask about as well as the U.S. Senate – except they use another word after "fili" – and they couldn't agree on a single topic. That left the staff to figure out the menu. Chef suggested we call it a Bikini Buffet, honoring the bathing suit reintroduced in Paris today in 1946. Then she saw the Professor of Astrology Janitor's eyes light up, and quickly withdrew that idea. We agreed on a Summer Smörgåsbord after the Squirrel said the little circle over the a reminded him a nut. (Your lowly mail room clerk resisted the urge to ask "What doesn't?" Why make him more cranky?)
So this week the resident faculty will look at a variety of topics: why conservatism celebrates poverty and even homelessness, why putting a man on the moon did not prove we can do anything we set our minds to, and/or whatever else pops into their so-called minds.
Except for flying underwear. We won't discuss that again, at least until next week. The Squirrel needs time to edit the video.
+++++
Happy Monday!