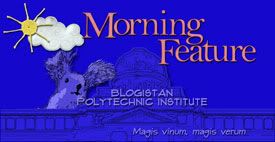 Professor Plum was flummoxed when he poked his nose and those chins into the mail room today. First, the mail room clerk had the morning off. That left me, the BPI Squirrel, to watch the staff poker game and such. Second, he hadn't found the mail. I hid it in my tree. (More)
This is the part where the mail room clerk would tell a humorous anecdote about the resident faculty going to the wine cellar library to drink think on our motto of Magis vinum, magis verum ("More wine, more truth"), followed by a story of the Professor of Astrology Janitor finding yet another way to lose in the poker game. Both of those happened, and then Chef went to make breakfast. That's what matters to me, because I'm cranky when I don't eat and the Patriot Parfaits aren't done yet. So excuse me if I'm not as nice as the mail room clerk.
+++++
Dear Ms. Crissie,

Please remind your readers not to come downtown for the usual 4th of July festivities in Cincinnati today. A gay pride parade will occur at the same time, and people might see deviant sex or even topless women.

Phil in OH
Dear Phil,
Gee thanks. If conservative nuts get together, BPI sends me to cover it. But here's an event with deviant sex and topless women, and I'm stuck in the mail room. The only way I'd get paid to watch that is if I worked for the Republican National Committee. That will never happen because even I can't stand that many nuts. Anyway, Phil, be a good conservative. Skip that parade and take your family to a lesbian bondage club.
+++++
Dear Ms. Crissie,

That's what I warned the Senate Judiciary Committee about yesterday. Elena Kagan opposes the military because they haven't bowed to a sexual counter culture. Our military exists to win wars, not as a social experiment. I abhor discrimination based on race and other immutable characteristics, but excluding gays and lesbians is the only sensible way to run a military organization.

Tony in D.C.
Dear Tony,
If you abhor racial discrimination, why dust off the same talking points used against President Truman's plan to integrate the military in 1948? LGBTs are not a "counter-culture." They are part of an American culture which celebrates today the 234th anniversary of the words "all men are created equal." Which of those words was too hard for you to read?
+++++
Dear Squirrel,

Does Chef's Patriot Parfait include nuts? You sound pretty cranky and you should eat soon.

Anonymous Mail Room Clerk in Blogistan
Dear Ms. Crissie,
Anonymous my fluffy tail. But to answer your question, Chef's Patriot Parfait does include nuts. She makes it by alternating layers of blueberry and strawberry compote between layers of vanilla yogurt and shaved almonds. They're chilling in the fridge now, and then she'll add a birthday candle to each. Bon appétit!
+++++
Sources:
+++++
Happy Birthday, U.S.A.!