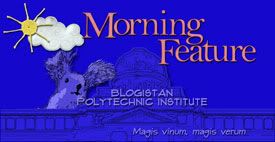 The resident faculty delivered a requisition for more towels. We know it was a clue to their plans for the week, but the staff aren't sure how to decipher it. Maybe they intend to discuss the simmering tensions of 1914 that created our modern geopolitical landscape. Or maybe they just want to discuss summer. (More)
We begin as always with thanks to last week's guest lecturers. Last Tuesday, Professor of Neuroholdemology Caractacus discussed Air Conditioning and the Environment. Last Wednesday, Professor of Ecoinsaninsuroscamology winterbanyan offered a poignant and powerful view of her father's World War II service, in Echoes of War. If you missed either, please read them.
This Tuesday, Professor Caractacus continues his Things We Learned This Week series with a surprise topic. (If he specified a topic, the staff missed it.) On Wednesday, guest lecturer J Brunner Fan will earn her faculty tenure – including keys to the wine cellar library and hot tub faculty lounge, plus her individual laundry mark for the weekly faculty game where the underwear goes flying planning conference – with a discussion of Drew Carey and libertarianism. As always, Chef will supply coffee and bagels, and the Professor of Astrology Janitor will demand cleaners and buffers.
Note: I've invited a lecturer for next Wednesday (July 7th), but we have openings for guest lectures starting the following week (July 14th). We also still have openings for Furthermore!, our lighthearted campus soapbox, on Mondays and Wednesdays. If you'd like to guest host Morning Feature, or contribute at BPICampus.com, please volunteer in today's Campus Chatter.

Also: Please share your stories of offline political activism in Things We Did This Week.
That leaves the staff trying to parse the resident faculty's requisition for more towels. The BPI Squirrel didn't notice their towels looking tattered around the hot tub faculty lounge, which is next to his tree, and he assured us that he would have noticed as he is very observant. (Note to resident faculty: his Blewberry is video-capable.) So we set aside the obvious reason for the requisition – that they need more towels – and have decided this is a clue. But to what?
Do they mean a reprise of last summer's series on hardiness narratives, inviting humorous (we hope), exaggerated tales of It's Hot Enough To…?
Or do they have more substantive plans? For example, 96 years ago today in Sarajevo, Serbian nationalist Gavrilo Princip assassinated Archduke Franz Ferdinand of Austria and his wife Sophie. That ignited World War I, whose formal end came five years to the day later with the signing of the Treaty of Versailles. The echoes of those five years still resonate today.
World War I hastened the Communist Revolution in Russia and the collapse of the Austro-Hungarian and Ottoman empires. Therein lay the seeds of the Cold War, the Balkan conflicts of the 1990s, and the Middle East and Persian Gulf conflicts that continue today. The Treaty of Versailles also left embers of German resentment that Adolf Hitler and the Nazi Party fanned into the flames of World War II, the most devastating man-made tragedy in history.
The irony is that many of those conflicts were made more likely by idealists like Woodrow Wilson and Arthur Balfour, whose high-minded visions exceeded their foresight and condemned future generations to sort out the implementation – or failure – of their ideas.
Which will the resident faculty discuss? Well, they do sometimes listen to the staff, and we listen to you. So which would you prefer?
+++++
Happy Monday!