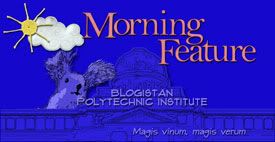 Just yesterday, on Juneteenth, the landmark Civil Rights Act of 1964 passed Congress. You're in Mississippi to help register blacks to vote, and you've heard a black church was burned down 50 miles away. A deputy stops you, saying you're speeding. By morning you'll be dead.
Those were the days. (More)
Those Were the Days, Part II – Freedom Summer in Mississippi
This week Morning Feature looks back at the pace and cost of progressive change. Yesterday we recalled the executions of ten Irish union activists in 1877. Today we remember the murders of three civil rights workers in Mississippi in 1964. Tomorrow we'll weigh our progress and backsliding on wealth and race privilege.
We saw yesterday what happens when state government gives way to corporate prosecutors and private police. But when the local police are members of the Ku Klux Klan, state government is no better. That's how a day that dawned rich with promise turned so horrific.
A curious coincidence:
I heard about Juneteenth as a child, though it was not celebrated in New England at the time. On June 19th, 1865, slaves in Galveston, Texas learned of the Emancipation Proclamation, which had been signed almost three years before. It was a busy day in civil rights history. On June 19th, 1862, Congress outlawed slavery in U.S. territories. And on June 19th, 1964, Congress passed the landmark Civil Rights Act.
When I noted that confluence last week in Campus Chatter, a reader asked if the final vote on the Civil Rights Act was scheduled to coincide with Juneteenth. I did some research, but could not confirm that it was or was not. So far as I know, it's purely an historical coincidence. But as the date is widely celebrated in the South, it may have seemed a good omen to civil rights activists James Chaney, Andrew Goodman, and Michael Schwerner. Such a landmark victory happening on Juneteenth likely would not have escaped their notice. It was Freedom Summer, after all.
Stopped for speeding:
Many civil rights activities were focused in black churches, and the Mount Zion United Methodist Church in Longdale, Mississippi had burned to the ground five days before. While trained to register black voters, Chaney, Goodman, and Schwerner also wanted to document what they suspected was yet another case of Klan terrorism. On June 20th, they got a haircut from a black barber in Meridian, then set out on the 50-mile drive to inspect the charred ruins.
They knew it was dangerous, and that their license plate number and a description of their car had been circulated among the Klan. They followed their training, informing other members of COFO – the Confederation of Federated Organizations, an umbrella civil rights group – of their planned route and scheduling check-in calls.
That afternoon they were stopped in Neshoba County by sheriff deputy Cecil Price. He claimed they were driving 35 miles per hour over the posted speed limit. A Klan member, Price brought them to jail "for investigation." He refused to allow them to contact COFO, and ordered the department secretary to lie when COFO workers called to ask if they had been arrested. After organizing a Klan ambush, Price released them and ordered them to leave the county.
Missing persons:
Just after midnight on June 21st, Price stopped the three men again and held them until the Klan killers arrived. Chaney was beaten horribly. The autopsy report, not released until June 2000, stated that both arms and his jaw were broken and his right shoulder crushed, in addition to groin trauma. He was shot three times; Goodman and Schwerner were shot once each through the heart. Their bodies were buried in an earthen dam near Philadelphia, and their car pushed into the Bogue Chitto swamp.
Their disappearance spurred national outrage. Though classified as "missing persons," the FBI suspected they were dead. State and local officials disagreed. Neshoba County Sheriff Lawrence Rainey said the three were hiding out to "cause bad publicity" for his community. Governor Paul Johnson speculated they had fled to Cuba.
Six weeks later, highway patrolman Maynard King secretly came to the FBI with details of the crime. Known only as "Mr. X" for 40 years, King had been tipped off by Klansman Pete Jordan. The bodies of Chaney, Goodman, and Schwerner were found and the case officially became a homicide. Or not.
Justice delayed:
State and local officials refused to prosecute the case, and the federal government had no jurisdiction for homicide. Instead, the Justice Department charged Sheriff Rainey, Deputy Price, and 16 others with criminal civil rights violations under the 1870 Force Act. Seven were convicted. The jury could not agree on local minister Edgar Ray Killen. In 2000, a juror said she had been the lone holdout for acquittal because she "could never convict a preacher."
Many details of the murders remained hidden for nearly 40 years, until Jackson Clarion-Ledger reporter Jerry Mitchell began investigating the case. Mitchell had won awards for developing evidence that led to criminal convictions in other civil rights era cases, including the murders of Medgar Evars and Vernon Dahmer, and the bombing of the 16th Street Baptist Church in Birmingham that killed four young girls.
Mitchell worked with Illinois high school teacher Barry Bradford and three students to find new evidence and talk to new witnesses. Their documentary, produced for a National History Day student film contest, presented a compelling case against Killen, whom they had interviewed. In January 2005, the 80-year-old Killen was indicted on three counts of murder, the first state charges in the deaths of James Chaney, Andrew Goodman, and Michael Schwerner.
On June 21st, 2005 – the 41st anniversary of the murders – a jury convicted Killen on three counts of manslaughter. The date was yet another historical coincidence.
Killen argued on appeal that no jury of his peers would have convicted him. Perhaps he meant an all-white jury of the kind he would have faced in 1964. For a member of the Ku Klux Klan, those were the days.
+++++
Given today's topic, I felt it would be inappropriate to include the usual Friday Kossascopes in Morning Feature. Instead they are in today's Campus Chatter.
+++++
Happy Friday!