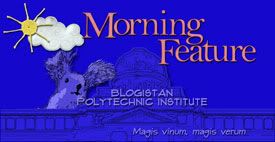 "We shall guess that you want yours scrambled," we said as Professor Plum poked his nose and all six chins into the BPI mail room.
He seemed thunderstruck. He drew a breath. He shook his head, not a pretty sight with all those chins. We grinned.
We found the mail first. (More)
Professor Plum had, of course, found the mail before the resident faculty made their weekly trek to the wine cellar library to spend the weekend drinking thinking on our motto of Magis vinum, magis verum ("More wine, more truth"). We still felt that sense of pride that comes with knowing before he did. It was that same sense of knowing what someone else doesn't that made the Professor of Astrology Janitor put in that third raise before the flop while holding a pair of Aces. Of course when Chef flipped up her pocket Queens after announcing her fold, he realized he'd pushed too hard. That set off his plaintive mewling and sent her scurrying to the kitchen to make a Country Scrambler … which also summarized the week's correspondence….
+++++
Dear Ms. Crissie,

I want to clarify my remarks about the BP oil spill. On Friday I said that BP should not be required to pay cleanup costs that exceed the statutory cap created by Congress after the Exxon Valdez mishap. That was misrepresented as my saying the American taxpayer should pick up the tab for the rest of the cleanup. Obviously the taxpayers should not pay to clean up BP's mess. But Americans also don't change the rules in the middle of the game. I hope this clears up any confusion.

Tom in D.C.
Dear Tom,
We suggest that you clarified your position in roughly the same sense that BP has cleaned up the spilled oil. There's still a lot of sludge floating in your words. If we follow your argument correctly, BP should only be liable for damages up to the statutory damage cap, and the government should not pay to clean up BP's mess … so there must be no damages above the statutory cap? Good luck convincing Mother Nature to obey acts of Congress.
+++++
Dear Ms. Crissie,

Of course nature doesn't obey human laws, and that's why I told that woman whose husband was flirting that she should make herself more attractive and to not hassle him. Like most men, he wants affirmation that he is still a man. That's natural and that's why his wife should make herself as beautiful as she can and be as fun as she can.

Pat in VA
Dear Pat,
We note that you have previously declared "the husband is the head of the wife and that's the way it is, period." But if he flirts around, it's the wife's fault for not being as beautiful or as fun as she might. So we find ourselves forced to ask: which head guides the husband, exactly?
+++++
Dear Ms. Crissie,

You liberals clearly don't understand the importance of law. Specifically, American Christian laws. That's why I've proposed a state constitutional amendment to prohibit Oklahoma courts from enforcing sharia or international law. It's a preemptive strike against liberal judges who are out to undermine those founding principles of America.

Rex in OK
Dear Rex,
Sit. Stay.
We apologize and concede that, like your proposed amendment, was a cheap joke.
American courts have never enforced sharia, and international law has always been accepted as persuasive but not binding, unless it has been adopted by statute or ratified as treaty. Courts often cite persuasive sources to explain or bolster some portion of a decision, and the most commonly-cited persuasive source is probably the Bible. We suspect your amendment would not forbid citations to the Bible, which proves you have no clue what "those founding principles" really are. We suggest you read the Establishment Clause of the First Amendment for a good start.
+++++
Dear Ms. Crissie,

Well, they're definitely trying to scramble our country, but I'll bet Chef's Country Scrambler is something else, right?

Hungrily Wagering in Blogistan
Dear Hungrily Wagering,
We applaud your perspicacity, and will wait while you look up that word.
Welcome back. Chef makes her Country Scrambler with hash browns, diced onions, diced green peppers, and browned-and-crumbled breakfast sausage. Each of those should be warmed in a skillet before adding the beaten eggs. Scramble until the eggs set and top with shredded cheese. Bon appétit!
+++++
Sources:
+++++
Happy Sunday!