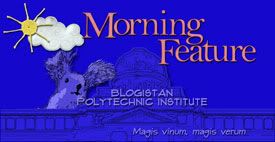 The resident faculty left a pile of Team USA soccer jerseys around the hot tub faculty lounge as they settled in for their weekly game where the underwear goes flying planning conference. Plus Professor Plum's Team Zeta Reticuli jersey. No one told him the World Cup is for this world. (More)
First our usual thanks to last week's guest lecturers. Last Tuesday, Professor of Ecoinsaninsuroscamology winterbanyan returned to the BPI lectern to kick off last week's series on high school with The Best Years of Your Life? Whoa! Last Wednesday Professor of Commuhealthmemiofieldrogueology TheFatLadySings offered a lovely peek into her corner of the world with Schoolchildren Teach Organic Farming to Troops. Both were excellent discussions and well worth reading if you missed them.
This Tuesday, Professor of Neuroholdemology Caractacus returns with his Things We Learned This Week series and continues his classified briefing on OPERATION TO BE DETERMINED. (The password is still "If he specified a topic," and the response still "I missed it.") This Wednesday, J Brunner Fan makes her BPI debut to discuss why we should focus less on the federal deficit and more on the jobs deficit. As always, Chef will show up with coffee and bagels, and the Professor of Astrology Janitor will show down his winning hand from the staff poker game.
Note: We have guest lecturers for the next two Wednesdays, but we have openings starting Wednesday, June 23rd. We also need writers for Furthermore!, the BPI Campus soapbox which appears on Sundays, Mondays, Wednesdays, Fridays. If you would like to guest host Morning Feature, or take to the soapbox for Furthermore!, please volunteer in today's Campus Chatter.

Also: Please share your stories of offline political activism in Things We Did This Week.
And that leaves us to explain the resident faculty wearing Team USA soccer jerseys as they emerged from the wine cellar library where they spent the weekend drinking thinking on our motto of Magis vinum, magis verum ("More wine, more truth").
The 2010 World Cup opens this week in South Africa, the first African nation to host the event. FIFA, the organizing body, expect an excellent tournament that will showcase not only The Beautiful Game but also a nation and continent too often ignored. The World Cup is, by far and away, the most watched sporting event worldwide. ESPN won't project specific numbers, but hopes to exceed the estimated 26 billion viewers for the 2006 World Cup in Germany. For perspective, that's over five times as many viewers as the 2008 Olympics in Beijing.
So this week we'll explore Franklin Foer's 2004 book How Soccer Explains the World: An [Unlikely] Theory of Globalization. Soccer is the world's most popular sport, perhaps because it requires so little equipment to play. You need only a round ball and some way to mark goals. Soccer balls are readily available, but they're not essential; kids around the world play with balls of rags. Framed goals with nets are nice, but also not essential.
The game is accessible for all income levels, a fact that we'll see is both part of its charm and part of its sometimes violent history. Most Americans heard about the fan violence in England in the 1980s, but few know that one of the most notorious death squads during the 1990s Balkan fighting began as a violent soccer fan club. And while soccer is a working class game in most of the world, the major clubs are owned by wealthy oligarchs whose corruption tarnished the sport in Italy and drove off most Brazilian fans. Even in the U.S., soccer has been caught up in the culture wars, where soccer fans – mostly suburbanites and Latinos – are sometimes portrayed as traitors to American exceptionalism.
For all that, it remains The Beautiful Game, a test of speed, grace, agility, and endurance, a game of non-stop action punctuated by moments of dazzling athletic brilliance. That's true even when a match ends in a nil-nil draw, as happened last night for the Chicago Red Stars and the Atlanta Beat. Or didn't you know the U.S. has women's professional soccer? Well, you do now….
+++++
Happy Monday!