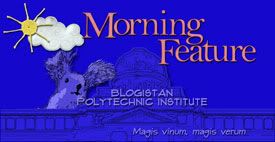 "Are the grits done yet?" Professor Plum asked when he poked his nose and all six chins into the BPI mail room.
Of course he didn't expect breakfast to be done at that hour. He was showing off again. We thought having only one letter and hiding it There would work. Oops. (More)
This raises the embarrassing question of when your lowly mail room clerk dozed off. It must have been sometime before the resident faculty made their usual trek to the wine cellar library to spend the weekend drinking thinking on our motto of Magis vinum, magis verum ("More wine, more truth"). We were awakened by Professor Plum's comment and were further astonished to see Chef brushing down the poker table while the Professor of Astrology Janitor was rattling around in the kitchen. We have no idea how that happened either. Several rattles and a loud crash later, Pootie the Precious and the BPI Squirrel dashed out, gesturing in fright. Chef finally gave up. "I better go help him," she said. "We might need that kitchen again."
Yes, we might. In the meantime, this week's letter awaits….
+++++
Dear Ms. Crissie,

You liberals need to stop complaining about South Carolina. We're special here, and we're proud of it. Yes, I was wrong to call one of the Republican candidates for governor "a f-ing raghead," and I apologized. But she is trying to conceal her true religion. Her dad writes letters to family back home, talking about her political career. We're at war over there. I mean, not with those people specifically, but with other foreign countries. We need real Americans in office here in America, and by that I mean we need a good Christian to be our governor in South Carolina. This woman should be proud of her god. I'm proud of my god. And by god that means nobody whose dad wears a turban should hold political office here.

Jake in SC
Dear Jake,
We shall resist the urge to shrug and say "That's Chinatown." Instead we shall shrug and say "That's the United States of America." Even in South Carolina.
In an effort to be objective, we ran your letter through the Official Heavy Duty BPI Stupometer. Our engineering department upgraded it since last week, so it didn't spew that goo again. Instead it ran out of paper halfway through the printout. We reloaded it with toilet paper, which worked fine, much to our surprise. We also think it more fitting. So let us begin.
First, the U.S. Constitution forbids religious tests for political office. You may prefer a Christian governor, but you don't need one.
Second, Ms. Haley says she has converted to Christianity.
Third, we see nothing suspicious in her father writing letters to family in India about his daughter's political career. He seems like a typically proud father.
Fourth, not all south Asian peoples are the same. The turban is common in many cultures, but so are shoes. That U.S. combat troops remain in Iraq and Afghanistan implies nothing meaningful about Sikhs in India.
Fifth, for you to be "proud of my god" seems out of step with your proclaimed Christianity. Pride is listed among the seven deadly sins, the apostle Paul wrote that Christian salvation is "a gift of god, not of works, lest any man should boast." It seems you read the Bible about as well as you read the Constitution.
Or a dictionary, for that matter. Because sixth, to "apologize" is to admit a mistake, not to repeat the same mistake using different words, as your 'apology' did.
We suggest that had Dante written the Ignoranto rather than the Inferno, an artist could have used your picture to portray the horrors of each level.
+++++
Dear Ms. Crissie,

Please tell me Chef helped the Professor of Astrology Janitor with breakfast. I like my grits al dente, not al floor-e.

Cautiously Hungry in Blogistan
Dear Cautiously Hungry,
Yes, Chef helped the Professor of Astrology Janitor, though she insists she needed only to explain the two sides of a pot and to suggest he use the inside. After that he made a delightful Southern Breakfast Casserole: grits cooked al dente with a bit of chicken stock in the water, mixed with crumbled bacon and chopped green onions, spread in a pan and topped with shredded cheddar cheese, and finally baked at 350°F for 30 minutes. Bon appétit!
+++++
Source: Jake in SC
+++++
Happy Sunday!