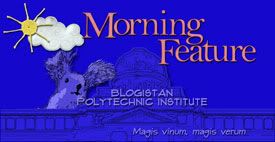 "Rand, Rand, Get a Rand, you get a Rand!"
Professor Plum singing alone was bad enough, but he had the rest of the resident faculty in not-the-Beach-Boys, four-part cacophony. All to let your lowly mail room clerk know he'd found this week's letters again. In the freezer. Under the spinach. Sigh. (More)
The Professor of Astrology Janitor thought it was funny, and chuckled as the resident faculty left for the wine cellar library to spend the weekend drinking thinking on our motto of Magis vinum, magis verum ("More wine, more truth"). He stopped chuckling only when he realized he held the Ace and Queen of Diamonds on an Ace-Queen-Jack flop with two Spades and a Diamond. When the Six of Diamonds came on the turn, giving him top two pair and a Diamond flush draw, he was all over it. The Four of Spades at the river didn't help him, but with Chef's King and Ten of Spades that Four did turn her Ace-high straight into an Ace-high Spade flush. Cue his plaintive mewling, which sent Chef to the kitchen to prepare Summer Parfaits, and gave your lowly mail room clerk time to review this week's correspondence:
+++++
Dear Ms. Crissie,

Did you see my victory speech? The Tea Party sent a message around the country this week. We're a huge movement and we want to save our country. We have a great country because we have a great system, and that system is capitalism. That's what I intend to save as Kentucky's next senator.

Rand in KY
Dear Rand,
We hope you'll forgive our confusion, but if we have a great country then why does it need to be saved? As for a "huge movement," you're about a quarter of the electorate: 18% according to an April poll by New York Times/CBS, 28% according to a March poll by Gallup/USA Today. Let's split the difference as 23%, the same percentage of Americans who rated the honesty and ethics of bankers as "high or very high." As you think our nation is based on capitalism, rather than on representative democracy, perhaps they're the same 23%.
+++++
Dear Ms. Crissie,

That's absurd. Our Constitution is about capitalism and private property rights. That's why I would have opposed the portions of the 1964 Civil Rights Act that affected private businesses. I don't discriminate but business owners should be able to discriminate if they want to. That's in the Constitution.

Rand in KY
Dear Rand,
We suggest that if you intend to talk about the Constitution, you might read it first. The 5th and 14th Amendments do protect property rights, but that protection is not without limitation. The 5th Amendment applies to the federal government and the 14th to the states, but both say you may not be deprived of life, liberty, or property "without due process of law." By both the plain and legal meanings of that phrase, government may limit property rights by law. As "property rights" are claims on property that government will enforce on behalf of an owner, the idea that government cannot interfere with property rights is a theoretical oxymoron. Like you, minus the "oxy."
+++++
Dear Ms. Crissie,

And that's exactly why I refused to appear on Meet the Press today. I thought candidates who won elections were supposed to get a honeymoon. Instead the liberal media are hounding me. I've set the record straight and I'm done talking about it. No more national interviews.

Rand in KY
Dear Rand,
We have never heard the term "honeymoon" claimed politically, apart from the winners of presidential elections. Unless we missed something in the news, you did not win a presidential election. You did not even win a general election. You won a state party primary. Winners of party primary elections routinely face increased public scrutiny, as they will be candidates in general elections. Why would you think yourself entitled to special treatment? We will credit you for consistency, however. Both your response to media scrutiny and your political philosophy are grounded in the same idea: that you deserve better treatment than others. The media simply allowed you to tell the American people what you believe. Your problem is not the media. Your problem is your beliefs.
+++++
Dear Ms. Crissie,

I'm sorry you were serenaded by the resident faculty, and especially sorry they ruined that Beach Boys song. Speaking of, I thought I might go to the beach today. Could I take that Summer Parfait with me?

Sandy Shore in Blogistan
Dear Sandy,
You would need an ice chest to keep your Summer Parfait cold, but otherwise we see no reason you could not take it to the beach. First melt ⅓ cup of apricot preserves in a microwave (about 10 seconds), then pour over and toss gently to coat 3 cups of sliced strawberries. Next spoon ¼ cup of low-fat plain yogurt into each of 4 parfait glasses. Top with ⅓ cup of the strawberry mix, then repeat the layers. Place in the refrigerator – or your ice chest – to chill. When you're ready for breakfast, top each parfait with 2 tablespoons of low-fat granola and 1 teaspoon of slivered, toasted almonds. Bon appétit!
+++++
Sources:
Rand in KY victory speech; criticizes Civil Rights Act; refuses Meet the Press.
New York Times/CBS poll; Gallup/USA Today poll; that 23%.
+++++
Happy Sunday!