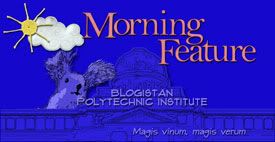 Usually Monday is a light day. I joke about the faculty of Blogistan Polytechnic Institute recovering from their weekend, as a segue into what's on tap for Morning Feature in the coming week. I'm not sure what's on tap for Morning Feature this week. I had a plan last Monday, but given President Obama's announcement last Tuesday the rest of the week turned to exploring legal decisions by Judge Sonia Sotomayor.
So today I'll note what I do know about the week ahead, and then offer a few words on jihad, the Islamic word for "struggle," and why I think the anti-abortion fanatic who murdered a doctor in Kansas has failed in that struggle.
First, as always, let's recognize and thank last week's diarists. Last Tuesday, gulfgal98 offered a wonderful discussion of state tax policy in Low Taxes – Pennywise and Pound Foolish? Amazingly, this was her first diary. I say amazingly because it so well-written you'd think she wrote these every day. Last Wednesday our Professor of Mediamaternity, theKgirls, explored some contemporary parenting challenges in Kids and the Media. It was an articulate and challenging essay. If you missed either, take a moment to read them and let our guest diarists know you appreciate their efforts.
This week our Professor of Mathematical Geekology, plf515, returns with a discussion of P-Value and the Cult of Significance. Don't let the title frighten you; a p-value is simply the probability that you would see a given statistical outcome by random chance, and thus that the statistic being cited means nothing at all. Given how often statistics play a role in our lives – the case of Ricci v. DeStefano that we explored Saturday happened because of statistics – we all should try to better understand when statistics are meaningful and when they're merely random noise.
Unless I've forgotten, we don't have a guest for this Wednesday yet. If you'd like to present a guest lecture here at BPI, please volunteer in a comment below. Chef makes good coffee, and the Kula Krew are always a respectful, thoughtful, and supportive audience.
A Jihadi Failure
In Arabic, the word jihad means "to struggle." So far as I'm aware, its most common usage involves a spiritual struggle. That has often been presented in terms of "holy war," waging war for Allah. But the deeper meaning, at least as it was explained to me by an Imam, is of struggling to understand and practice one's faith, in a world that can challenge both understanding and practice. The still deeper meaning, as he explained it, is recognizing that we never fully understand and the truest practice of faith is to continually struggle despite that always incomplete understanding.
In other words, it's not about having The Right Answers. It's about asking The Right Questions, again and again, never taking for granted that you've found The Right Answers.
A beloved priest said essentially the same of my Catholic faith. "God doesn't expect us to know or do the right thing every time," he said. "God asks us to struggle to know and do the right thing. The struggle, not the answer, is our true calling. If ever you've stopped struggling with difficult moral issues, you're committing either the sin of pride in thinking you understand too much, or the sin of despair in giving up trying to understand at all."
The man who murdered Dr. George Tiller had stopped struggling. Either he'd given up trying to understand the difficult moral issue of abortion, or he'd decided he knew The Right Answer. What I've read of his motives – admittedly all hearsay at this point – suggests the latter. He'd reached a moral conclusion: killing is evil, thus abortion is evil, thus doctors who perform abortions are evil, thus killing those doctors is good.
The problem with that conclusion is obvious: it's incompatible with the first premise. But as someone commented in another thread – a comment offered in the abstract and not as a defense of this murder – how do we deal with evil without doing evil? If someone is trying to kill your child, would you not be willing to kill to protect your child? What if the target were a neighbor's child? What if the target were unborn, in another woman's womb?
The question of how to meet evil without doing evil is one of the most challenging in all of ethics. It is one of The Right Questions, and one with which every religion and ethical philosophy must wrestle. It is and will always be part of any ethical jihad. Reaching The Right Answer isn't the real goal. The real goal is struggling with that Right Question. And the man who murdered Dr. Tiller stopped struggling.
Some will suggest that by using the word jihad, I am conflating Dr. Tiller's murder with Islamic terrorism. I am. People who engage in acts of terrorism, claiming they're motivated by religion, don't get a free pass if their religious symbols look similar to mine, nor additional condemnation if their religious symbols look different from mine. The religious symbols become irrelevant to me, at that point. They've failed in the most fundamental struggle of religion and ethics: they think they have found The Right Answer and they're willing to kill for it.
And that's one of the huge red flags we ought to be aware of whenever we're struggling with religious and ethical questions. If our religion or ethics seem to justify the worst we can be – torture, murder, and all the rest we've done as a species – we've stopped struggling with The Right Questions. Either we're convinced we've found The Right Answers, or we've given up and given in to our worst instincts.
Pride or cynicism. There's not much difference.
+++++
I'm not sure what's on tap for the rest of the week. I'm considering a series on Network Theory, an emerging science that some say will be for the coming centuries what Newtonian physics was for the past centuries. There's still that series on local government and how our involvement in local issues can change our menu and our vision on national and global issues. Or something else might come up. We'll have to see.
Happy Monday!